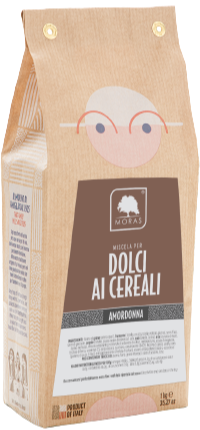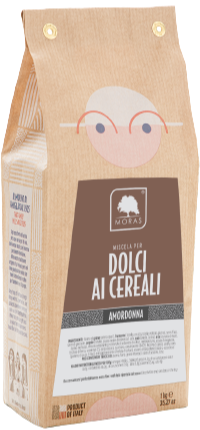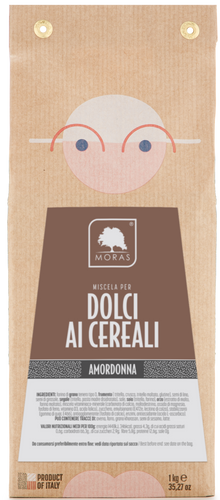 Amordonna Flour - Cereal Sweets
A perfect cereal blend for a fragrant, tasty and healthy bread. 
It contains vitamins and minerals, among the most important: iron, magnesium, calcium, folic acid and vitamin D. 
Minimum shelf life: 05/2023.
Description
Instructions for Use
Suitable for the preparation of bread, focaccia, grissini, and desserts. A cereal and seed-based mixture specifically created for women, rich in vitamins and minerals, to be integrated into the daily diet.
Strength
Weak mix - to be mixed with one of the flours from the Tradizione Line, according to use.

The strength is the ability to form the gluten network (which retains more or less carbon dioxide) and the power of absorbing liquids. The proteins responsible for gluten formation are two insoluble proteins: gliadin and glutenin.
Weak flours form a gluten network that retains little carbon dioxide and has a reduced liquid absorption capacity. Weak flours are more suitable for all preparations that do not require a long rising time.
Strong flours are rich in gluten, absorb liquids to a greater extent, and retain more carbon dioxide. The resulting dough is tenacious, very elastic, and suitable for long rising times.
Recommended Recipe: Ciambellone with Amordonna Flour
Ingredients:
100g of Fior Fiore flour
200g of Amordonna flour
3 eggs
80g of sugar
250ml of fresh cream
8g of baking powder for desserts
Combine eggs and sugar and whisk until obtaining a soft and foamy mixture. Add the cream with a spatula.
Sift the flour together with the baking powder and incorporate them into the mixture.
Butter and flour the mold, pour the mixture, and bake in a static oven at 170 degrees Celsius for about 40/50 minutes.
Ingredients
Soft wheat flour type 0, soft wheat (flour, triticale, bran, malted triticale, gluten, fiber), flax seeds, sunflower seeds, rye (triticale, dehydrated sourdough pasta), salt, soy (triticale, flour), barley (malt extract, malt flour), vitamin and mineral mix (calcium carbonate, maltodextrin, magnesium oxide, iron phosphate, vitamin D3, folic acid), sugar, improver (emulsifier: E472e, rapeseed lecithin), stabilizer E466 and guar gum, anti-caking agent calcium phosphate, enzymes (alpha-amylase, hemicellulase), antioxidant (L-ascorbic acid).
May contain: wheat, rye, barley, oats, spelt, khorasan wheat, soy, sesame seeds, egg, milk (including lactose)
Nutritional declaration - average values per 100g of product:

ENERGY 1448kJ, 346kcal

FATS 4.3g
of which saturated fatty acids 0.6g

CARBOHYDRATES 66.3g,
of which SUGARS 2.9g

FIBERS 5.8g

PROTEINS 12.6g

SALT 0g

Packaging and storage
Package
1 kg | paper bag.


Batch and Expiration Date
They are indicated on the package.
Store in a dry and well-ventilated place, avoiding direct contact with walls and floors.
Once the bag is opened, it should be tightly sealed and stored in a dedicated space, away from other products that could cause deterioration, contamination, or alter its characteristics. The flour should not be stored in the refrigerator or placed in nylon bags and frozen.
We recommend not using airtight jars for storing flour.
Headquarters and Facility


Molino Moras S.r.l. – Via Palma, 40 Trivignano Udinese (UD)
Package: 1 kg
shelf life
6 months from the packaging date.
The shelf-life indicates the storage duration of a food product.
Flours have a minimum storage term generally indicated with the month and year, because their food safety does not decrease even after this time.
The blends of the Fiber and Wellness, Durum Wheat, Taste and Fantasy, Intolerance and Corn lines have a compositional profile different from that of soft wheat flours, which is why they have a shorter shelf life than basic flours.
You might also like