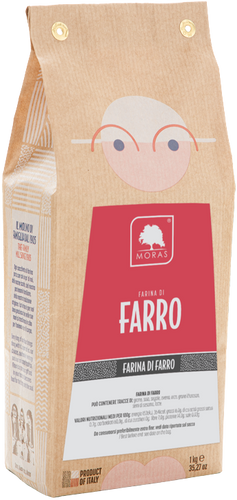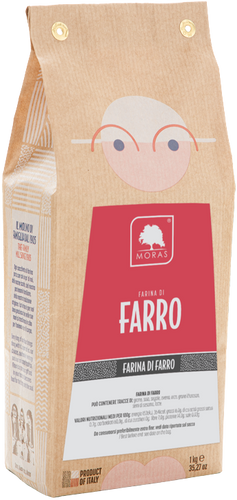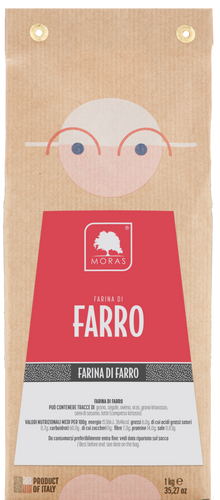 Spelt Flour
Spelt flour with a sweet taste and a light aroma of dried fruit, excellent for the preparation of many sweet and savoury recipes such as bread, pasta, focaccia, cakes.
€4,45
Description
Instructions for use
Suitable for bread, pizza, focaccia, pasta, cakes, and biscuits.
The spelt flour can be used pure or mixed with one of the flours from the Tradizione Line, depending on the use.
Thanks to its nutritional properties, it is highly recommended for those who want a good alternative to products made with soft wheat and hard wheat.


Recommended recipe
Cookies with spelt flour
Ingredients:
200g of 00 pastry flour
100g of spelt flour
half a teaspoon of baking soda
200g of soft butter
200g of granulated sugar
2 eggs
about 170g of chocolate chips
1 pinch of salt
powdered vanilla to taste
Separately, beat the butter with the sugar until obtaining a soft foam. Add salt, vanilla, and finally the eggs.
Add the flour and baking soda, mix until obtaining a homogeneous mixture, and incorporate the cold chocolate chips.
Using a spoon, take the dough and place the cookies well spaced apart on a baking sheet lined with parchment paper.
Bake for about 10-12 minutes at 180°C.
Remove the biscuits from the oven and let them cool to solidify.
Ingredients
Spelt flour
May contain: wheat, rye, barley, oats, spelt, Khorasan wheat, soy, sesame seeds, egg, milk (including lactose)
Nutritional declaration - average values per 100g of product:

ENERGY 1484kJ, 350kcal

FAT 1.3g
of which saturated fatty acids 0.2g

CARBOHYDRATES 71.7g
of which SUGARS 0.5g

FIBER 2.2g

PROTEIN 11.7g

SALT <0.25g

Packaging and storage
Package
1 kg | paper bag.


Lot and expiration date
They are reported on the package.
Store in a dry and ventilated place avoiding direct contact with walls and floors.
Once the bag is opened, it must be kept tightly closed in a dedicated space, away from other products that could cause deterioration, contamination, or alter its characteristics. Flour should not be stored in the refrigerator nor stored in nylon bags and frozen.
We do not recommend using airtight jars for storing flour.
Location and facility


Molino Moras S.r.l. - Via Palma, 40 Trivignano Udinese (UD)
All images of the product packaging are for illustrative purposes only. The image of the specific packaging serves only to present the product.
Location and facility: Molino Moras S.r.l. - Via Palma, 40 Trivignano Udinese (UD)
shelf life
6 months from the packaging date.
The shelf-life indicates the storage duration of a food product.
Flours have a minimum storage term generally indicated with the month and year, because their food safety does not decrease even after this time.
The blends of the Fiber and Wellness, Durum Wheat, Taste and Fantasy, Intolerance and Corn lines have a compositional profile different from that of soft wheat flours, which is why they have a shorter shelf life than basic flours.
You might also like