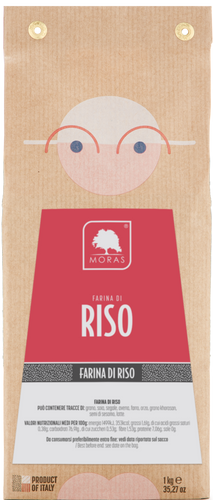 Rice Flour
A white flour, light, with a very fine consistency and rich in starch. Rice flour is perfect for shortcrust pastry, cakes, béchamel and as a thickener.
€3,29
Description
Instructions for use
Rice flour can be used for all types of shortcrust pastry (10-30% rice flour, 90-70% flour from the Tradizione Line), also excellent for cakes and cookies, for creams, bechamel sauce and puddings and as a thickener for sauces.
It can also be a good alternative for light batters for frying.
Recommended recipe
Soft jam tart
Ingredients (24/26 cm pie dish):
Create a well with the flour and add the sugar, soft butter, eggs, a pinch of salt, rhum and baking powder. Knead and form a ball.
Let the mixture rest in the fridge for 6/8 hours.
Once the dough is removed from the fridge, use 2/3 of the dough for the base, spread the jam generously and use the remaining dough for decorations in strips.
Bake the tart at 160° for 30/40 minutes. Do not let it brown too much, it is best for the dough to be soft.
Ingredients
Rice Flour
May contain: wheat, rye, barley, oats, spelt, khorasan wheat, soy, sesame seeds, egg, milk (including lactose)
Nutrition declaration - average values per 100g of product:

ENERGY 1413kJ, 336kcal
FAT 0.8g
of which saturates 0.2g

CARBOHYDRATES 76.5g,
of which SUGARS 0.1g

FIBER 0.5g

PROTEIN 6.5g

SALT 0g

Packaging and storage
Package
1 kg | paper bag.

Lot and expiration date
They are reported on the package.
Store in a dry and well-ventilated place avoiding direct contact with walls and floors.
Once the bag is opened, it should be kept tightly closed in a dedicated space, away from other products that could cause deterioration, contamination, or alter its characteristics. Flour should not be stored in the refrigerator or in nylon bags and frozen.
We recommend not to use airtight jars for storing flour.
Office and facility
Molino Moras S.r.l. – Via Palma, 40 Trivignano Udinese (UD)
shelf life
6 months from the packaging date.
The shelf-life indicates the preservation duration of a food product.
Flours have a minimum conservation term generally indicated with month and year, because their food safety is not compromised even after this time.
The blends of the Fiber and Wellness, Durum Wheat, Taste and Fantasy, Intolerance, and Corn lines have a compositional profile different from that of soft wheat flours, which is why they have a shorter shelf life than base flours.
You might also like
Spedizione da 19€ GRATIS
Spedizioni gratuite da 19€ TUTTI i prodotti in SCONTO! Non servono codici
Fino al 27 novembre