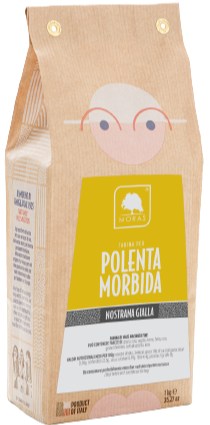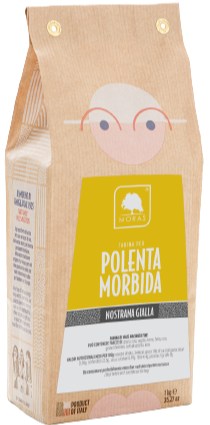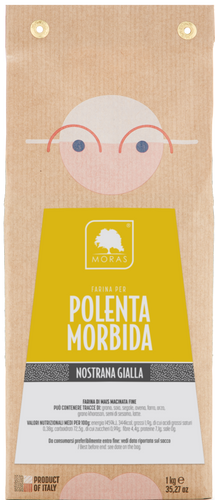 Our local yellow corn flour
Corn flour for yellow polenta of medium granulometry. The polenta with this flour is more velvety. The flour can also be used for the preparation of rustic biscuits or for a tasty polenta bread.
€3,35
Description
Instructions for use
Suitable for medium-grain polenta. It can also be used for rustic biscuits or polenta bread.
Recommended Recipe
Polenta with our yellow flour
Ingredients:
1 liter of water
yellow local flour.

Amounts:

300g for a firm polenta
250g for a medium polenta
200g for a tender polenta
12g of salt
Bring the salted water to a boil, pour the flour gradually, stirring continuously.
The minimum cooking time is 45/50 min.
Remember: the polenta does not overcook and the longer it cooks, the better and more pleasant it is.
Ingredients
Yellow corn flour
May contain: wheat, rye, barley, oats, spelt, khorasan wheat, soy, sesame seeds, egg, milk (including lactose)
Nutritional declaration - average values per 100g of product:

ENERGY 1515kJ, 362kcal

FATS 2.7g
of which saturated fatty acids 0.3g

CARBOHYDRATES 80.8g,
of which SUGARS 1.5g

FIBER 3.1g

PROTEIN 8.7g

SALT 0g

Packaging and storage
Package
1 kg | paper bag.


Lot and expiration date
They are indicated on the package.
Store in a dry and ventilated place avoiding direct contact with walls and floors.
Once opened, keep it tightly closed in a dedicated space, away from other products that could cause deterioration, contamination, or alter its characteristics.
We recommend not to use hermetic closure jars for flour storage.
Headquarters and plant


Molino Moras S.r.l. – Via Palma, 40 Trivignano Udinese (UD)
shelf life
6 months from the packaging date.
The shelf-life indicates the duration of preservation of a food product.
Flours have a minimum term of conservation generally indicated with the month and year, because their food safety does not decrease even after this time.
The blends of the Fiber and Wellness, Hard Wheat, Taste and Fantasy, Intolerance, and Corn lines have a compositional profile different from that of soft wheat flours, and therefore have a shorter shelf-life compared to basic flours.
You might also like
Spedizione da 19€ GRATIS
Spedizioni gratuite da 19€ TUTTI i prodotti in SCONTO! Non servono codici
Fino al 27 novembre