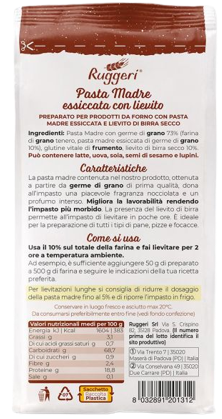 Dried sourdough with yeast
Prepared for baked goods with dried sourdough and dry beer yeast.
The presence of beer yeast allows the dough to rise in a few hours. It is ideal for bread, pizzas and focaccia.
Description
The sourdough starter used is obtained from high-quality wheat germ, giving the dough a pleasant hazelnut fragrance and intense aroma. It improves workability making the dough softer.
The presence of baker's yeast allows the dough to rise in a few hours.
It is ideal for making all kinds of bread, pizzas, and focaccia.
Instructions for use
Use 10% of the total flour and let it rise for 2 hours at room temperature.
For longer leavening times, reduce the amount of sourdough starter to 5% and store the dough in the refrigerator.
Ingredients
Ingredients: wheat germ sourdough 73% (wheat flour, dried wheat germ sourdough 10%), vital wheat gluten, dry brewer's yeast 10%.
Packaging and storage
Package
Net weight: 250g.
Lot and expiration date
They are reported on the package.
Store in a cool and dry place at a temperature not exceeding 20°.
You might also like