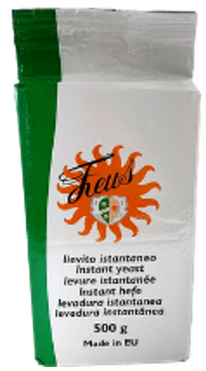 Zeus Dry Beer Yeast
Instant dry yeast, to be used directly in doughs.  
€6,21
Description
Instructions for use
Dry yeast is obtained by lyophilization (removal of water under low pressure and at room temperature) of the cells of the Saccaromyces Cerevisiae species.
Use it for recipes that require leavening, dose according to the expected maturation time.
One gram of dry yeast is equivalent to about three grams of fresh yeast.
25 g of fresh yeast (1 cube) = 7/8 g of dry yeast
The ratio is therefore 3:1
Ingredients
Composition: baker's yeast (Saccharomyces cerevisae), rehydration agent
Packaging and storage
Package
Net weight: 500 g.
Store in a cool, dry and ventilated place at a temperature not exceeding 20°C. Once the package is opened, it can be stored tightly closed in refrigeration temperature (0-10°C).

Lot and expiration date
They are indicated on the package.
shelf life
Once the package of dry brewer's yeast is opened, it can be stored tightly sealed in the refrigerator,
The yeast will remain active and can be used for more than a year after opening the package.
You might also like