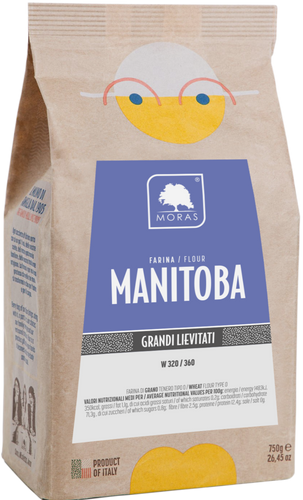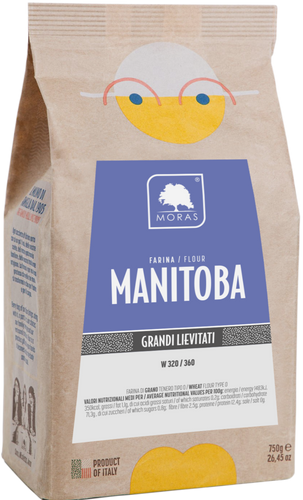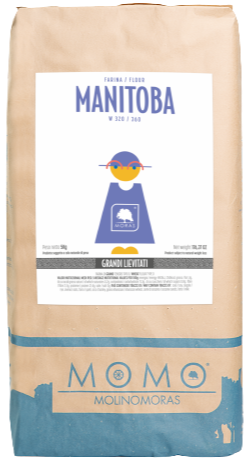 High strength Manitoba flour
Manitoba to be used for doughs that require a good amount of gluten and for very long leavenings. It is recommended for maturing of 48/72 hours.
€2,49
Description
Instructions for use
The best bread flour.
Suitable for making panettone, pandoro, focaccia, colomba, pinze, and other large leavened baked goods, as well as krapfen and bomboloni.

Strength
W 320 - 360. The strength index (W) is considered as the description to define the best use of the product.



Strength is the ability to form the gluten mesh (which retains more or less carbon dioxide) and the power of absorbing liquids. The proteins responsible for the formation of gluten are two insoluble proteins: gliadin and glutenin.
Weak flours form a gluten mesh that retains little carbon dioxide and has a reduced liquid absorption. Weak flours are more suitable for all preparations that do not require a long leavening time.
Strong flours are rich in gluten, absorb liquids to a greater extent, and retain more carbon dioxide. The doughs are tenacious, very elastic, and suitable for supporting long leavening times.
Ingredients
Soft wheat flour type 0
May contain: wheat, rye, barley, oats, spelt, Khorasan wheat, soy, sesame seeds, egg, milk (including lactose)
Nutritional declaration - average values per 100g of product:

ENERGY 1483kJ, 350kcal

FAT 1.1g
of which saturates 0.2g

CARBOHYDRATES 71.3g,
of which SUGARS 0.8g

FIBER 2.5g

PROTEIN 12.4g

SALT 0g

shelf life
9 months from the packaging date.
Shelf-life indicates the duration of preservation of a food product.
Flours have a minimum conservation term generally indicated with the month and year, because their food safety does not decline even after this time.
Our soft wheat flours of Type 00, 0, 1, 2, and Wholemeal have a shelf life established at 9 months from the production date. We have chosen this time extension for the commercial life of our products because we produce flours without additives or other elements that can modify their compositional, technological, and preservative profile.
You might also like