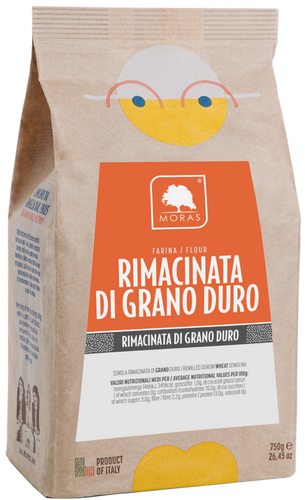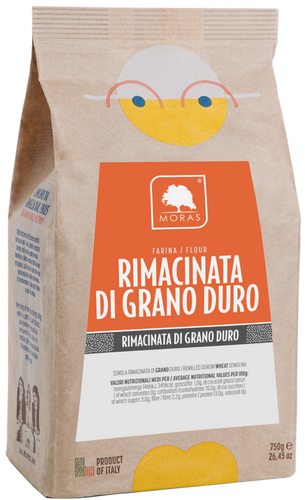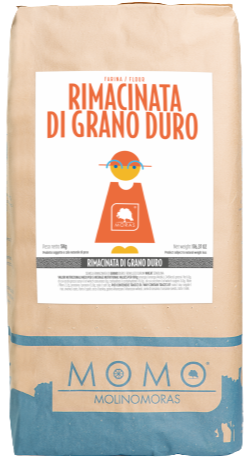 Durum Wheat Semolina
Durum wheat semolina, obtained from a second milling and with a finer granulometry. Ideal for fresh pasta , bread, pizza and focaccia.
€2,59
Description
Usage advice
Used for fresh pasta, bread, pizza, and focaccia. It is also used to prepare the typical Apulian bread, with a uniform and compact alveolation, very tasty and ideal for long preservation.
Remilled semolina is obtained from a second grinding of durum wheat, it has a lighter yellow color, smaller grains, and is finer and softer to the touch than semolina.
Recommended recipe
Focaccia with Remilled Durum Wheat Semolina and Type 1 Flour
Ingredients:
500g of Remilled Durum Wheat Semolina
500g of Type 1 Flour
700ml of water
3g of dry beer yeast
2/3 tablespoons of extra virgin olive oil
cherry tomatoes
oregano
salt for topping
In a bowl combine the flours and the dry yeast. Add the water gradually and knead. Add the extra virgin olive oil and salt. Take the dough and transfer it to a bowl; cover with nylon and let rest 30 minutes.
Put the bowl in the fridge for 24 hours, then take the dough out of the fridge, let it return to room temperature and wait for the dough to double in size.
Roll it out on a well-oiled pan, let it rest for 30 min, press in the cherry tomatoes seasoned with oil, salt, and oregano.
Leave it for 30 min and then bake in the oven at 220/250°C until golden brown.
Ingredients
Remilled durum wheat semolina
May contain: wheat, rye, barley, oats, spelt, khorasan wheat, soy, sesame seeds, egg, milk (including lactose)
Nutritional declaration - average values per 100g of product:

ENERGY 1476kJ, 348kcal

FATS 1.0g
of which saturates 0.0g

CARBOHYDRATES 72.0g,
of which SUGARS 3.0g

FIBER 2.5g

PROTEIN 11.5g

SALT 0.025g

Packaging and storage
Package
750g | paper bag. Also available in a 5kg package.
Lot and expiration date
Reported on the package.
Store in a dry and ventilated place avoiding direct contact with walls and floor.
Once the bag is opened, it should be kept tightly closed in a dedicated space, away from other products that could cause deterioration, contamination or alter its characteristics. Flour should not be stored in the fridge or placed in nylon bags and frozen.
We recommend not using airtight jars for storing flour.
Headquarters and establishment
Molino Moras S.r.l. - Via Palma, 40 Trivignano Udinese (UD).
shelf life
6 months from the packaging date.
Shelf-life indicates the duration of preservation of a food product.
Flours have a minimum storage term generally indicated with the month and year, because their food safety does not diminish even after this time.
Mixes from the Fibra e Benessere, Grano Duro, Gusto e Fantasia, Intolleranza e Mais lines have a compositional profile different from that of soft wheat flours, which is why they have a shorter shelf life than basic flours.
You might also like