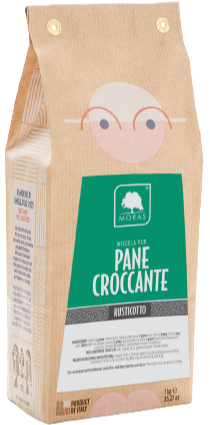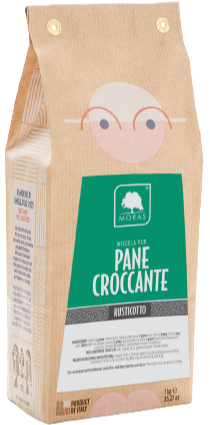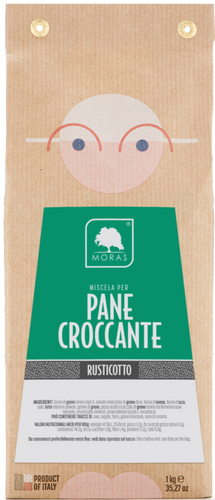 Rusticotto Flour - Crispy Bread
Rusticotto: a flour blend of soft wheat type 0, durum wheat, barley and oats.
Durum wheat gives flavor and aroma, while barley and oats enrich its nutritional value.

The ideal mix to make a light bread with a fine and golden crust, for focaccia, grissini or sweet recipes.
€3,85
Description
Instructions for use
Suitable for bread, pizza, focaccia, breadsticks. Great for making fragrant sandwiches, toast bread, and sandwiches. It can also be used for sweet preparations: crepes, cakes, and soft cakes.
To be combined with a flour from the Linea Tradizione to bake tasty breakfast bread, focaccia, or to make your breadsticks more flavorful.

Strength
Weak mix - to be mixed with one of the flours from the Tradizione Line, depending on the use.
Strength is the ability to form a gluten mesh (which retains more or less carbon dioxide) and the power of liquid absorption. The proteins responsible for gluten formation are two insoluble proteins: gliadin and glutenin.
Weak flours form a gluten mesh that retains little carbon dioxide and have a reduced liquid absorption. Weak flours are more suitable for all preparations that do not require a leavening time.
Strong flours are rich in gluten, absorb liquids to a greater extent, and retain more carbon dioxide. The dough is tenacious, very elastic, and suitable for supporting long leavening.
Recommended recipe
Sweet crepes with Rusticotto flour
Ingredients for 12 crepes:
100g of Rusticotto flour
200ml of milk
1 egg
butter
70/80g of sugar
Salt
Beat the eggs with the sugar, add the milk, flour, and a pinch of salt. Melt a knob of butter and pour it into the mixture. Cover the bowl with plastic wrap and let the batter rest for 30 minutes at room temperature. Heat a small pan with a little oil, pour in a ladle of batter, and when the edge is colored, flip the crepe and cook on the other side.
Ingredients
Soft wheat flour type 0, re-milled durum wheat semolina, oat flour, barley flour, salt, whole milk powder, wheat germ, naturally fermented sourdough dried from soft wheat, enzymes (alpha amylase), antioxidant (L-ascorbic acid).

May contain: wheat, rye, barley, oats, spelt, khorasan wheat, soy, sesame seeds, egg, milk (including lactose)
Nutritional Declaration - average values per 100g of product:

ENERGY 1473kJ, 352kcal

FAT 1.2g
of which saturates 0.1g

CARBOHYDRATES 74.2g,
of which SUGARS 1.8g

FIBER 1.4g

PROTEIN 11.2g

SALT 0.8g

Packaging and storage
Package
1 kg | paper bag.


Lot and expiration date
They are reported on the package.
Store in a dry and ventilated place, avoiding direct contact with walls and floors.
Once the bag is opened, it must be kept tightly closed in a dedicated space, away from other products that could cause deterioration, contamination or alteration of its characteristics. Flour should not be stored in the refrigerator or placed in nylon bags and frozen.
We do not recommend using airtight jars for storing flour.
Headquarters and plant
Molino Moras S.r.l. – Via Palma, 40 Trivignano Udinese (UD)
shelf life
6 months from the packaging date.
Shelf-life indicates the duration of preservation of a food product.
Flours have a minimum storage term generally indicated with the month and year, because their food safety does not diminish even after this time.
Mixes from the Fibra e Benessere, Grano Duro, Gusto e Fantasia, Intolleranza e Mais lines have a compositional profile different from that of soft wheat flours, which is why they have a shorter shelf life than basic flours.
You might also like