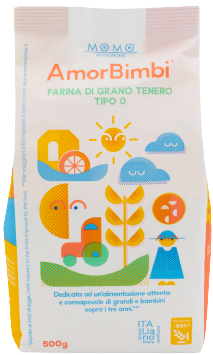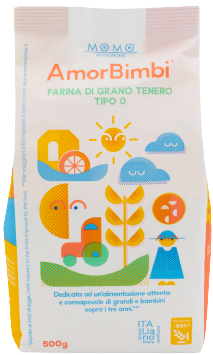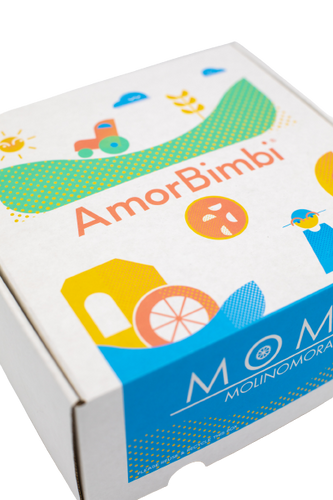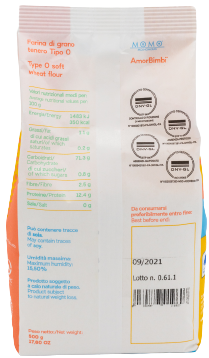 Type 0 Flour AmorBimbi
Flour Type 0 made with 100% Italian grain, perfect for bread, pizza, cakes and leavened desserts.
€2,90
Description
Instructions for use
Suitable for bread, pizza, cakes and leavened desserts.
Strength
W 250 - 280. The strength index (W) is to be considered as a term to define the best use of the product.


Strength is the ability to form the gluten mesh (which retains more or less carbon dioxide) and the power of liquid absorption. The proteins responsible for gluten formation are two insoluble proteins: gliadin and glutenin.
Weak flours form a gluten mesh that retains little carbon dioxide and has reduced liquid absorption. Weak flours are more suitable for all preparations that do not require a proofing time.
Strong flours are rich in gluten, absorb liquids to a greater extent and retain more carbon dioxide. The doughs are tenacious, very elastic and suitable for supporting long proofing times.
Who it is suitable for
AmorBimbi is a Type 0 soft wheat flour designed for conscious and dedicated nutrition for both adults and children starting from 3 years of age.
Certifications
The flour is certified:
zero glyphosate
zero pesticides
ISO 22005 for supply chain traceability
for a reduction of 80% of mycotoxins compared to the maximum limit set by law by the European Union.
Furthermore, it has obtained the IosonoFvg brand of AgrifoodFvg, which certifies the origin of the product directly from a local agri-food supply chain.
What the package contains
Inside the 3kg package, you will receive a flyer with 7 recipes for 7 days and a copy of the interactive ebook "Adriano il chicco di grano", published by the publishing house MIMebù.
Ingredients
Type 0 soft wheat flour
May contain traces of soy.
Nutritional declaration - average values per 100g of product:

ENERGY 1483kJ, 350kcal
FATS 1.1g
of which saturates 0.2g

CARBOHYDRATES 71.3g

of which SUGARS 0.8g
FIBER 2.5g

PROTEIN 12.4g

SALT 0g
Packaging and storage
Confezione: 500g | TERPAP paper bag.
Net weight: 500g. Also available in 3kg box.

Store in a dry and airy place, avoiding direct contact with walls and floors. Once the bag is opened, it must be kept tightly closed in a dedicated space, away from other products that could cause deterioration, contamination or alter its characteristics. Flour should not be stored in the refrigerator or in nylon bags and frozen.
We recommend not using hermetically sealed jars for flour storage.

Lot and expiry date: are reported on the packaging.
Head office and production plant: Molino Moras S.r.l. - Via Palma, 40 Trivignano Udinese (UD)
shelf life
9 months from the packaging date.
The shelf-life indicates the preservation time of a food product.
Flours have a minimum conservation term generally indicated with the month and year, because their food safety does not expire even after this time.
Our soft wheat flours of Type 00, 0, 1, 2 and Whole Wheat have a shelf life set at 9 months from the production date. We have chosen this time extension for the commercial life of our products because we produce flours without additives or other elements that can modify their compositional, technological, and preservation profile.
You might also like