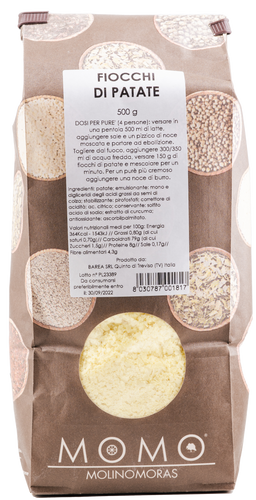 Potato Flakes
Potato flakes, perfect for making mashed potatoes.
Servings for 4 people: pour 500ml of milk into a saucepan, add salt and a pinch of nutmeg and bring to a boil.
Remove from heat, add 300/350ml of cold water, pour in 150g of potato flakes and stir for one minute. For a creamy mash, add a knob of butter.
Ingredients
Ingredients: potatoes; emulsifier: mono- and diglycerides of fatty acids from rapeseed; stabilizer: pyrophosphates; acidity regulator: citric acid; preservative: sodium hydrogen sulfite; turmeric extract; antioxidant: ascorbyl palmitate.
Nutritional values per 100g:



Energy
364 kcal - 1543 kJ
Fat
of which saturates
0.80g
0.70g
Carbohydrates
of which sugars
79g
1.5g
Proteins
8g
Salt
0.17g
Dietary fiber
4.3g
Packaging and storage
Lot and expiration date are shown on the package.
Product distributed by Molino Maraldi Cesena (FC).
You might also like