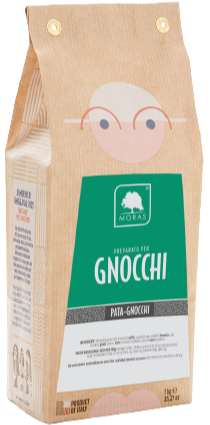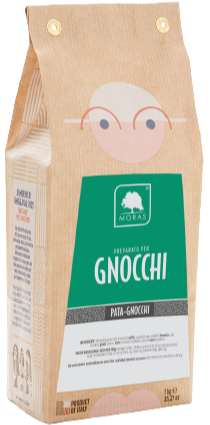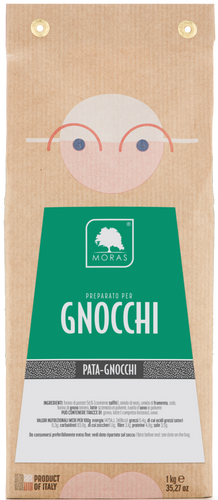 Potato Flour-Gnocchi Mix for Gnocchi
A blend to make potato gnocchi with a traditional flavor. Try this preparation to cook gnocchi in just a few minutes.
€6,29
Description
Instructions for use
Suitable for preparing potato gnocchi. This preparation can be flavored to taste with pumpkin, spinach, or beetroot for a colorful touch.
Pata-Gnocchi can be added to dough for bread, pizza, and focaccia to make them more fluffy.
Recipe to make one portion of gnocchi
In a bowl, knead 100g of gnocchi mix with the addition of 150ml of water; mix the two ingredients until a smooth and lump-free dough is obtained. Divide the dough and shape</
Ingredients
Potato flour 56% (contains sulfites), cornstarch, wheat starch, salt, wheat flour, skimmed milk powder, egg yolk powder.
May contain: wheat, rye, barley, oats, spelt, khorasan wheat, soy, sesame seeds, egg, milk (including lactose).
Nutritional information - average values per 100g of product:

ENERGY

1475 kJ, 348kcal



FAT 0.4g
of which saturates 0.3g

CARBOHYDRATES 83g,
of which SUGARS 1.1g

PROTEIN 4.8g

FIBER 3.1g
SALT 3.5g

Packaging and storage
Package
1 kg | paper bag.


Batch and expiry date
They are reported on the package.
Store in a dry and ventilated place avoiding direct contact with walls and floors.
Once the bag is opened, it must be kept tightly closed in a dedicated space, away from other products that could cause its deterioration, contamination, or alter its characteristics. The flour should not be stored in the refrigerator or in nylon bags and frozen.
We recommend not using airtight containers for flour storage.
Location and establishment
Molino Moras S.r.l. – Via Palma, 40 Trivignano Udinese (UD)
shelf life
6 months from the packaging date.
Shelf-life indicates the duration of preservation of a food product.
Flours have a minimum storage term generally indicated with the month and year, because their food safety does not diminish even after this time.
Mixes from the Fibra e Benessere, Grano Duro, Gusto e Fantasia, Intolleranza e Mais lines have a compositional profile different from that of soft wheat flours, which is why they have a shorter shelf life than basic flours.
You might also like
Spedizione da 19€ GRATIS
Spedizioni gratuite da 19€ TUTTI i prodotti in SCONTO! Non servono codici
Fino al 27 novembre