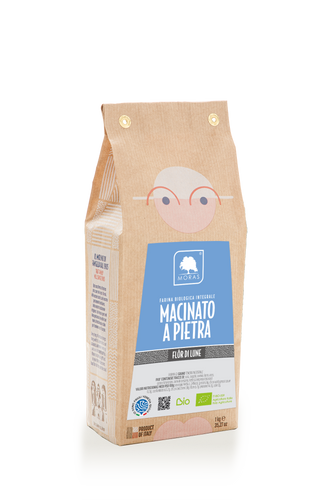 Organic Wholemeal Stoneground Flour Flor di Lune
Organic wholemeal flour Flor di Lune
for
cookies and pies
, grissini, bread and pizza with a short maturation period.
Km0 flour
born from the stone grinding of regional short supply chain wheat.
Minimum shelf life: 04/2023.
Description
Instructions for Use
Suitable for biscuits and pies, breadsticks, short-maturing bread and pizza.
Strength
W 180-230. The strength index (W) is to be considered as a term to define the best use of the product.

Strength is the ability to form the gluten network (which retains more or less carbon dioxide) and the power of liquid absorption. The proteins responsible for gluten formation are two insoluble proteins: gliadin and glutenin.
Weak flours form a gluten network that retains little carbon dioxide and has reduced liquid absorption. Weak flours are more suitable for all preparations that do not require a proofing time.
Strong flours are rich in gluten, absorb liquids to a greater extent and retain more carbon dioxide. The doughs are tenacious, very elastic, and suitable for long proofing times.

Flor di Lune Project Details and Certifications

'Flor di Lune' - 'Moonflower' because it is obtained from the artisanal milling of wheat from an agricultural production with a sustainable and clean process that protects the land, enhances the producers, and aims to spread culture among consumers. It is a whole-body milling process where wheat germ, fibers, and minerals are the real protagonists.
The Flor di Lune organic wholemeal flour has obtained the IoSonoFvg label from AgrifoodFvg, which certifies the product's origin directly from a local agri-food chain.
Ingredients
Whole wheat flour
May contain: wheat, rye, barley, oats, spelt, khorasan wheat, soy, sesame seeds, egg, milk (including lactose)
Packaging and storage
Packaging
1 kg | paper bag.
Store in a dry and ventilated place, avoiding direct contact with walls and floors.
Once the bag is opened, it should be kept tightly closed in a dedicated space, away from other products that could cause deterioration, contamination or alteration of its characteristics. Do not store flour in the refrigerator or in nylon bags and freeze it.
We do not recommend using airtight jars for storing flour.
Batch and expiration date
They are reported on the package.
Headquarters and establishment
Molino Moras S.r.l. - Via Palma, 40 Trivignano Udinese (UD)
shelf life
6 months from the packaging date.
The shelf-life indicates the storage duration of a food product.
Flours have a minimum storage term generally indicated with the month and year, because their food safety does not decrease even after this time.
The blends of the Fiber and Wellness, Durum Wheat, Taste and Fantasy, Intolerance and Corn lines have a compositional profile different from that of soft wheat flours, which is why they have a shorter shelf life than basic flours.
You might also like